Fire365 Voucher Campaign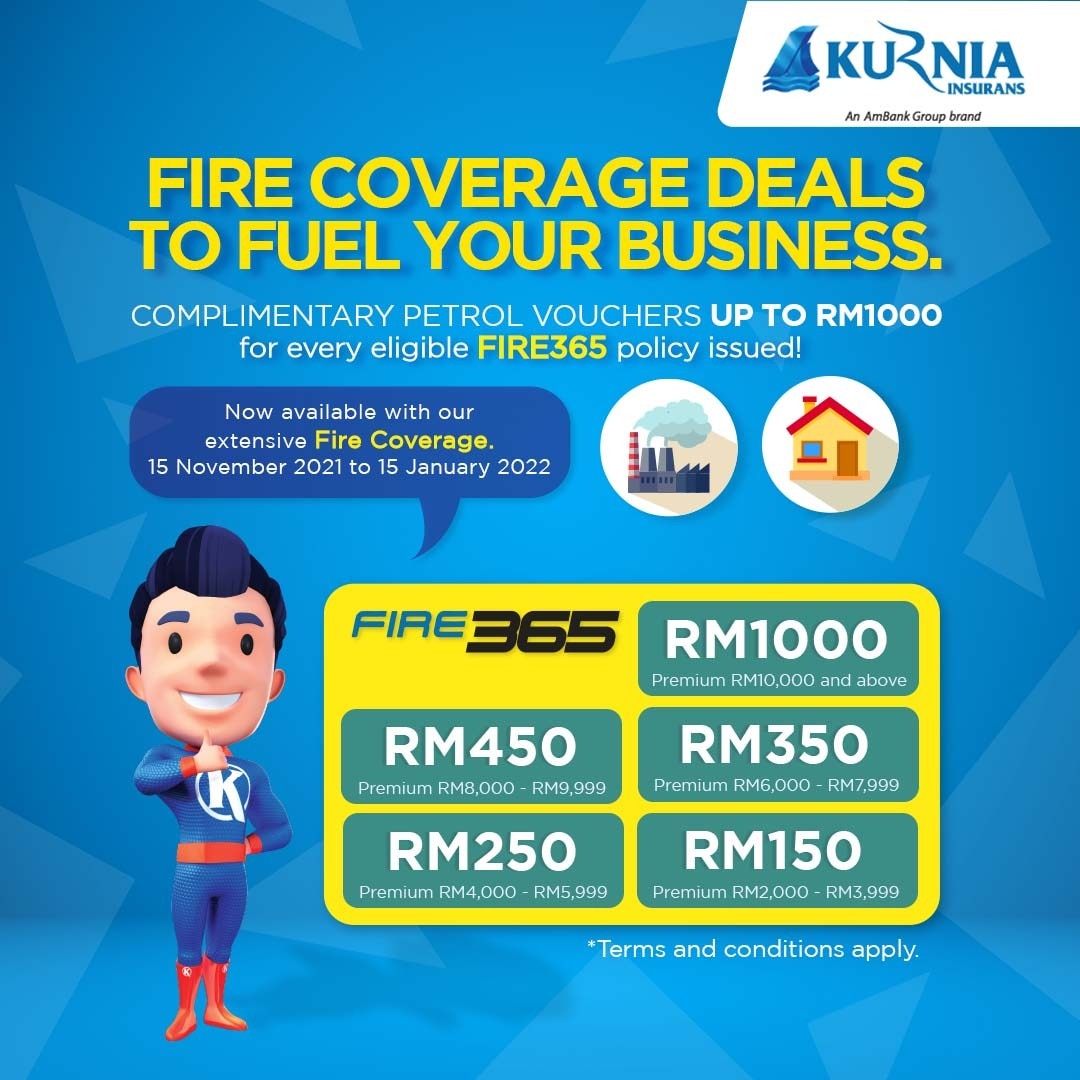 Learn more about our products:
Fire 365
Business Fire 365
Terms and Conditions
1. Fire365 Voucher Campaign ("Campaign") is organised by AmGeneral Insurance Berhad ("AmGeneral").
Campaign Period
2. The Campaign shall commence from 15 November 2021 to 15 January 2022, both dates inclusive unless notified otherwise ("Campaign Period"). AmGeneral reserves the right to terminate the Campaign at any time.
3. The period for disbursement of the vouchers shall run from 29 November 2021 to 31 March 2022, both dates inclusive after which the Campaign will be terminated.
Eligibility
4. You will be eligible to participate in this Campaign provided the criteria below are fulfilled
a. Renew or Purchase a Fire365 ("Insurance") product during the Campaign Period, subject to a minimum gross premium of RM2,000.
b. The application of the Insurance must be issued during the Campaign Period.
c. The payment of the insurance premium must be fully paid and accepted by AmGeneral within sixty (60) calendar days of the premium warranty period. Any policy payment made after the premium warranty period has ended is not eligible for the Campaign.
5. The Campaign is open to all customers who purchase the Insurance from AmGeneral or through any of AmGeneral's authorised intermediaries (including AmBank branches) or authorised dealerships.
6. The Campaign is applicable for policies directly issued by AmGeneral. Any policy with co-insurance or facultative reinsurance arrangement shall be excluded from this Campaign
7. The Campaign applies only to policies with Standard Risk. Policies with Referred and/or Declined Risk will not be eligible for the Campaign.
8. Manual issuance of policy cover note will not be accepted. All applications are to be submitted through the system.
Vouchers
9. Each eligible customer will receive a set of vouchers based on the limit of the respective policy as below:
Insurance Product

Total Gross Premium

Shell e-Voucher

Fire365

RM2,000 – RM3,999.99

RM150

RM4,000 – RM5,999.99

RM250

RM6,000 – RM7,999.99

RM350

RM8,000 – RM9,999.99

RM450

RM10,000 and above

RM1,000
10. The vouchers will be delivered to eligible customers to their email address registered with AmGeneral during the purchase of Insurance. You will receive the vouchers within two (2) months of full document submission, subject to verification of customer information received.
11. You are responsible for ensuring that you have provided accurate information of your mobile phone number and/or email address to receive the voucher. Should you decide to provide a third party's phone number and/or email address, AmGeneral will not be liable for the receipt of voucher via the third party.
12. The Shell e-Voucher is to be utilised approximately within one (1) year of receiving the voucher. AmGeneral is not responsible for the activation of the vouchers once they have been disbursed to the eligible customers. If a voucher remains unused or unredeemed after the said period, the voucher will lapse and will not be replaced.
13. AmGeneral will not resend vouchers to different phone numbers provided by the customers if they did not receive or have deleted/lost the vouchers sent based on the contact details provided by the customer (as per point 11).
14. Shell Malaysia Trading Sdn Bhd ("Shell") owns the right to the terms and conditions of the voucher usage. Any warranty or claims on the voucher should be directed to Shell.
15. AmGeneral is not an agent of Shell, its subsidiary or affiliate and makes no representation/warranties/endorsement or in any way endorse, sanction, approve or support the brand(s) or merchandise of the vouchers. AmGeneral is not liable for any injury/loss/damage suffered from use of the vouchers. Any query and/or dispute on the usage of the voucher must be directed to and resolved directly with Shell.
16. AmGeneral reserves the right, as it deems fit, to substitute the voucher with another product of similar value without prior notice.
17. The voucher is not transferable, nor exchangeable for cash or credit or kind whether in part or in full.
Other General Conditions
18. The Campaign will cease after 15 January 2022, and all vouchers will be disbursed by 31 March 2022, after which this Campaign will be terminated. No further disbursements shall be made or claims against this Campaign be entertained after 31 March 2022.
19. AmGeneral reserves the right (at its own discretion) to disqualify any participant and/or withhold or confiscate the vouchers in full or part if:
The participant is found to be or reasonably suspected of participating in any form of fraudulent practices (including but not limited to false identities, doctoring images, wilful spamming or manipulation of any AmGeneral's processes, or website); and/or

The redemption request is found to have been made via other channels, made outside of the Redemption Period, or is fraudulent, against the spirit of the Campaign, or non-compliant with the Campaign Terms and Conditions; and/or

The

policy is found to be cancelled prior to the Campaign disbursement date.
20. Where we suspect a participant is participating in any form of unlawful and/or fraudulent activity, we reserve the right to report such activity or suspicion to the police or relevant authorities.
21. AmGeneral reserves the right to vary the Terms and Conditions of this Campaign without any prior notice. AmGeneral may withdraw or discontinue the Campaign at any time without giving prior notice and without incurring any liability.
22. AmGeneral reserves the right to change the Campaign Period and/or Disbursement Period if the launch of the Campaign is delayed and shall have no liability for the same.
23. Any cancellation, termination, withdrawal or suspension by AmGeneral of this Campaign will not entitle participants to any compensation from AmGeneral for any and all loss or damage that may be suffered or incurred by the participant as a direct or indirect result of the act of cancellation, termination, withdrawal or suspension.
24. AmGeneral's determination of all matters relating to this Campaign shall be final and conclusive and in the event of any inconsistency between these Campaign Terms and Conditions and any marketing or promotional materials relating to this Campaign, these Campaign Terms and Conditions shall prevail.
25. AmGeneral would like to alert the Participants to take reasonable precautions when receiving any phone calls and messages requesting for your personal information during and/or after the Campaign. AmGeneral would also like to advise our valued Participants to call our Customer Centre for verification regarding the Campaign.
26. By participating in this Campaign, you hereby give consent for your personal data and/or information to be processed in accordance with the Personal Data Protection Act 2010 ("PDPA"). Please refer to our full Privacy Notice on www.kurnia.com or www.amassurance.com.my for further information.
27. Eligible customers who do not receive their vouchers within the stipulated timeline are advised to contact our Customer Centre @ 1 800 88 3833 for Kurnia or 1 800 88 6333 for AmAssurance.
28. These Campaign Terms and Conditions are governed by and construed under the laws of Malaysia.