Nothing Less For You Campaign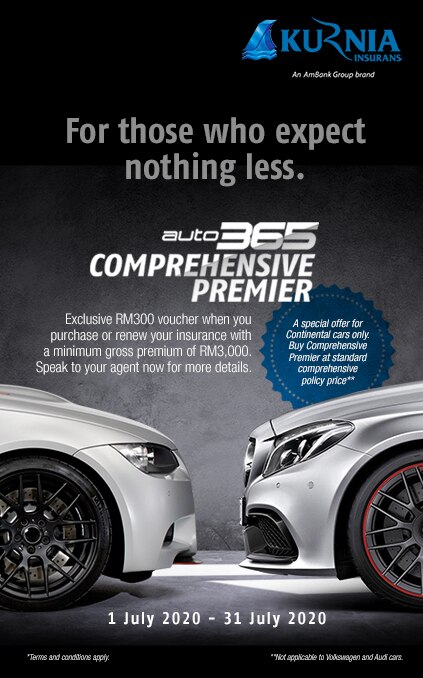 Terms and Conditions
Customer Campaign
July "Nothing Less For You" ("Campaign") is organised by AmGeneral Insurance Berhad ("AmGeneral").
The Campaign shall commence from 1 July 2020 to 31 July 2020, both dates inclusive unless notified otherwise ("Campaign Period"). AmGeneral reserves the right to terminate the Campaign at any time.
Eligibility
You will be eligible to participate in this Campaign provided the criteria below are fulfilled:
You have purchased an auto365 Comprehensive Premier Insurance product only.

The purchase of insurance is made directly via AmGeneral or through any of AmGeneral authorised intermediaries.

The purchase must be made during the Campaign Period.

The application and payment of the insurance premium must be accepted by AmGeneral during the Campaign Period.
Campaign benefits
Special Offer for Continental Cars
Customers will be able to purchase the auto365 Comprehensive Premier product for the price of a standard comprehensive policy. This is applicable to Continental cars only, excluding all Audi and Volkswagen vehicle models.
Vouchers
Each customer eligible for the vouchers will receive a set of vouchers as illustrated in the flyer up to the limit per policy.
The vouchers will be delivered to eligible customers in the form of SMS or to their email address registered with AmGeneral during the purchase of insurance products. You will receive the vouchers within fourteen (14) working days of full document submission, subject to verification of customer information received.
The customer is responsible for ensuring that they have provided accurate information of their mobile phone number and/or email address to receive the voucher. Should the customer decide to provide a third party's phone number and/or email address, AmGeneral will not be liable for the receipt of voucher via the third party.
AmGeneral's determination of all matters relating to this Campaign shall be final and conclusive and in the event of any inconsistency between these Campaign Terms and Conditions and any marketing or promotional materials relating to this Campaign, these Campaign Terms and Conditions shall prevail.
For valid purchases between 1 July 2020 and 31 July 2020 (both dates inclusive), the shopping vouchers disbursed will be Touch 'n Go Credit, subject to availability and discretion by AmGeneral.
The Touch 'n Go credit is to be utilised approximately within one (1) year of receiving the voucher.
Eligible customers who do not receive their vouchers within the stipulated timeline are advised to contact our Customer Centre @ 1800-88-6333 for AmAssurance or 1800-88-3833 for Kurnia.